Originally posted by chicagogeorge
Ok and what is your comment about the Epirotes calling Achilles "Aspetos"
-------------------------------------------------------
Well...I'll give to you my response (which I gave to a Greek guy in another forum)...
The confusion of 'Aspetos' mentioned by Plutarch with the same one mentioned as well in 'Iliad' is a thing that I see often when I debating with Greeks. To be correct we should re-post the 'problematic' and disputed quote of Plutarch:
Of the Thesprotians and Molossians after the great inundation, the first king, according to some historians, was Phaethon, one of those
who came into Epirus with Pelasgus. Others tell us that Deucalion and Pyrrha, having set up the worship of Jupiter at Dodona, settled there among the Molossians. In after time, Neoptolemus, Achilles's son, planting a colony, possessed these parts himself, and left a
succession of kings, who, after him, was named Pyrrhidae, as he in his youth was called Pyrrhus, and of his legitimate children, one was born of Lanassa, daughter of Cleodaeus, Hyllus's son, had also
that name. From him Achilles came to have divine honours in Epirus,under the name of Aspetus, in the language of the country. After these
first kings, those of the following intervening times becoming barbarous, and insignificant both in their power and their lives, Tharrhypas is said to have been the first who, by introducing Greek manners and
learning, and humane laws into his cities, left any fame of himself. Alcetas was the son of Tharrhypas, Arybas of Alcetas, and of Arybas and Troas his queen, Aeacides; he married Phthia, the daughter of
Menon, the Thessalian, a man of note at the time of the Lamiac war, and of highest command in the confederate army next to Leosthenes. To Aeacides were born of Phthia, Deidamia and Troas, daughters, and
Pyrrhus, a son.
http://www.greektexts.com/library/Pl...s/eng/824.html
Let's analyze carefully the full quote:
a) Plutarch pointed out that king Tharrypas was the first who introduced 'Greek manners and learning'. Again I persist on the frequently asked question: If Epirus was the 'heart of Greece' mean that Epirotes were somehow the 'nucleus' of all Greeks. If Epirotes were being of 'central Greeks' then Plutarch would not say that 'Tharrypas' introduced 'Greek learning' on Epirus? It does not make sense to introduce 'Greek manners and learning' in the centre of all Hellenes!
b). Again if Epirotes spoke any tongue close to the Greek, then Plutarch did not need to emphasize 'the language of the country' that mean obviously a entirely different language from Greek. Achilles himself never is related in 'Iliad' with the word 'Aspetos'. The only one who called Achilles as 'Aspetos' is Plutarch. The official etymology of 'Aspetos' related with 'unspeakable,unspeakably great,endless,' is not well-attested because it contains somehow some primaries logic mistakes. Plutarch said clearly that Achilles has divine status among Epirotes; if Epirotes honored someone as 'Divine' they could not attribute this 'divine status' to someone which is 'unspeakable'.
1. Aspetos = A + Spetos; 'A' is the short trait of 'asht' (mean is in Alb.). Even in modern times, specifically in Gheg dialect is preserved a such trait short of 'Asht' in 'A'. What's about 'Spetos'. If we drop out the last suffix 'os' the word become on 'Spet' which is an earlier form of Alb. 'Shpejtë' mean 'fast, quick' because again in Gheg dialect we find an another variation from standard form of Albanian 'Shpejtë' in 'Shpetë'. Suma Summarum after this summarized explanation we come to the central point: Aspetos is transparently equivalent with Alb. 'A shpetë',
Aspetos = A shpetë mean 'He is fast/quickly'.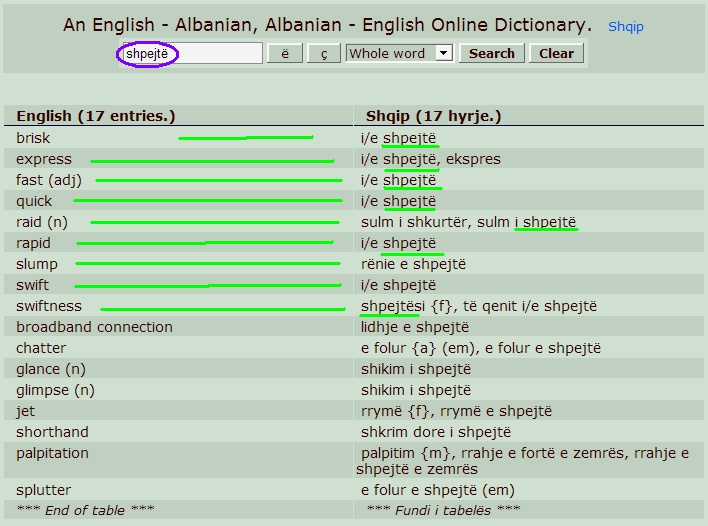 2. This version of explanation has a sufficient logic base since Homer like to use for Achilles the epithet as 'swift-footed' (podas ôkus), a clear indication of swiftness of every action of Achilles.
A characteristic of Homer's style is the use of epithets, as in "rosy-fingered" dawn or "swift-footed" Achilles. These epithets were metric stop-gaps as well as mnemonic devices for the aoidos (singer) — both, signs of the deep oral tradition that preceded the written codification of the Iliad and Odyssey.
Moreover, epithets in epic poetry from various Indo-European traditions may be traced to a common tradition going much deeper into prehistory. For example, the phrase approximating "everlasting glory" or "undying fame" can be found in the Homeric Greek kleos aphthiton and the Sanskrit śrávo ákşitam. They "were, in terms of historical linguistics, equivalent in phonology, accentuation, and quantity (syllable length). In other words, they are descendants from a fragment of poetic diction (reconstructable as Proto-Indo-European *klewos ņdhgwhitom) which was handed down in parallel over many centuries, in continually diverging forms, by generations of singers whose ultimate ancestors shared an archetypal repertoire of poetic formulae and narrative themes."[1]
A name plus an epithet constitute a formula which exactly fits the metric structure of the verse. The use of formulas is characteristic of ancient epic poetry.
Homer used epithets not merely to complete rhythm patterns. Epithets increase the meaning of each noun that they alter. Epithets can tell of the character's origin, parentage, appearance or state, skill-set, position, or heroic quality. At the same time, he distinguishes between Homer's two different types of epithets: the special and the generic. Special epithets are used exclusively for a particular character, while generic epithets are used repeatedly for a class of characters. Yet this distinction is not always clear; thus, the epithet "master of the war-cry" is used predominantly with Menelaus, yet on occasion also to describe Diomedes.[2]
****Then answered him Achilles swift of foot: "Most noble son of Atreus, Agamemnon king of men, for the gifts, to give them as it beseemeth, if so thou wilt, or to withhold, is in thy choice. But now let us bethink us of battle with all speed; this is no time to dally here with subtleties, for a great work is yet undone. Once more must Achilles be seen in the forefront of the battle, laying waste with his brazen spear the battalions of the men of Troy. Thereof let each of you think as he fighteth with his man."
http://homer.classicauthors.net/illiad/illiad19.html
When they were assembled and gathered together, among them arose and spoke swift-footed Achilles: "Son of Atreus, now I think we shall return home, beaten back again, should we even escape death, if war and pestilence alike are to ravage the Achaeans. But come, let us ask some seer or priest, or some reader of dreams—for a dream too is from Zeus—who might say why Phoebus Apollo is so angry, whether he finds fault with a vow or a hecatomb; in hope that he may accept the savour of lambs and unblemished goats, and be willing to ward off the pestilence from us."
http://www.theoi.com/Text/HomerIliad1.html